A new home, and new hope for women and children in need
21 July 2022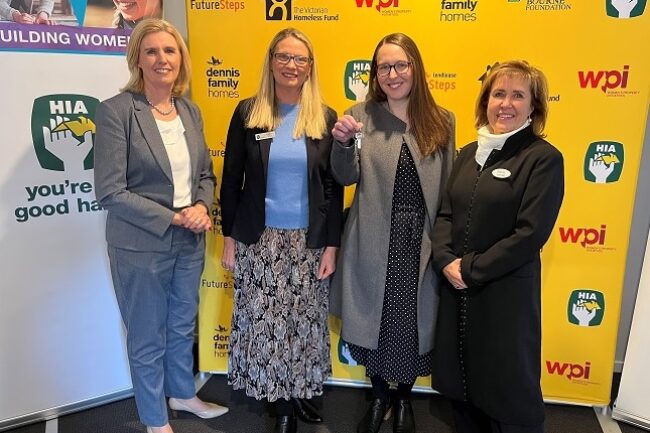 A brand new, custom built five bedroom home in the City of Melton has been unveiled in a collaboration between some of Australia's leading organisations to support homeless women and children, particularly those escaping family violence.
The Victorian Homeless Fund project was constructed by Dennis Family Homes on land donated to Women's Property Initiatives by the Scalzo Family. Generous funding support was also provided by the Lendlease Future Steps program, ISPT and The Bourne Foundation.
Victorian Homeless Fund Chair, Colleen May, who launched the project this morning has been delighted by what has been achieved through the generosity of many.
"Homelessness is still a significant problem, and we can't solve it by ourselves but if individually we all give a little, collectively, we can change people's lives."
"The builders, suppliers and tradespeople who have donated to this project have been amazingly generous and because of them, a family will have a safe home and hope for the future," Colleen said.
The home was constructed by Dennis Family Homes with tremendous support from many suppliers keen to be involved.
"We are extremely proud of our long history of building charity homes and to be supporting the Victorian Homeless Fund and Women's Property Initiatives by providing an invaluable resource to relieve homelessness and will deliver vulnerable families temporary accommodation in the years to come.
"We are thankful to our trades and suppliers who gave so generously their support during construction," stated Dennis Family Homes General Manager, Mike Butler.
The home which has been named Margot Rottem House in honour of a founding member of The Victorian Homeless Fund, will be managed by The Women's Property Initiatives, an organisation providing accommodation for women and children at risk of homelessness as well as access to support networks and ongoing advocacy.
Janette Large, CEO, of the Women's Property Initiatives, said
"Viewing the home today, it is amazing to witness the generosity of everyone involved. Creating a home for women and children escaping housing crisis and who are at risk of homelessness will profoundly change their lives. A secure and affordable home provides the foundation for a happy and healthy life and helps to break the intergenerational cycle of poverty."
Picture (left to right): Fiona Nield, Executive Director Victoria at HIA, Colleen May, Chair at Victorian Homeless Fund, Katie Struthers, Chair at Women's Property Initiatives, and Adele Levinge, Director at Dennis Family Group.